Washington, DC — The Republican State Leadership Committee (RSLC) today launched its "2021 Virginia Candidate Spotlight" series—a weekly initiative dedicated to highlighting some of the Republican candidates on the ballot in Virginia House of Delegate races this November. The committee is ramping up its involvement in Virginia as it looks to build on a successful 2020 election cycle when it beat back $500 million in total Democrat state spending to hold all 59 of its Republican chambers, flip two more, and add two trifectas.
The slate of candidates in Virginia this cycle embodies the RSLC's commitment to growing the future of the party with candidates that better represent their communities. While the top of the Republican ticket in the Old Dominion includes a business owner and political outsider candidate for governor, an African American and former veteran candidate for lieutenant governor, and a Hispanic candidate for attorney general, it will be bolstered by 22 women, 8 minorities, 21 veterans, 19 young Republicans, and 24 business owners running for the House of Delegates. Along with the series launch, the RSLC today also announced its first round of candidate spotlights, emphasizing this diversity.
"This year's diverse slate of Republican candidates is second to none, and we are proud to highlight their leadership and accomplishments," said RSLC President Dee Duncan. "The RSLC is committed to supporting these candidates with the assistance they need to run strong campaigns and fight back against the failures we've seen coming from Democrat-controlled Richmond."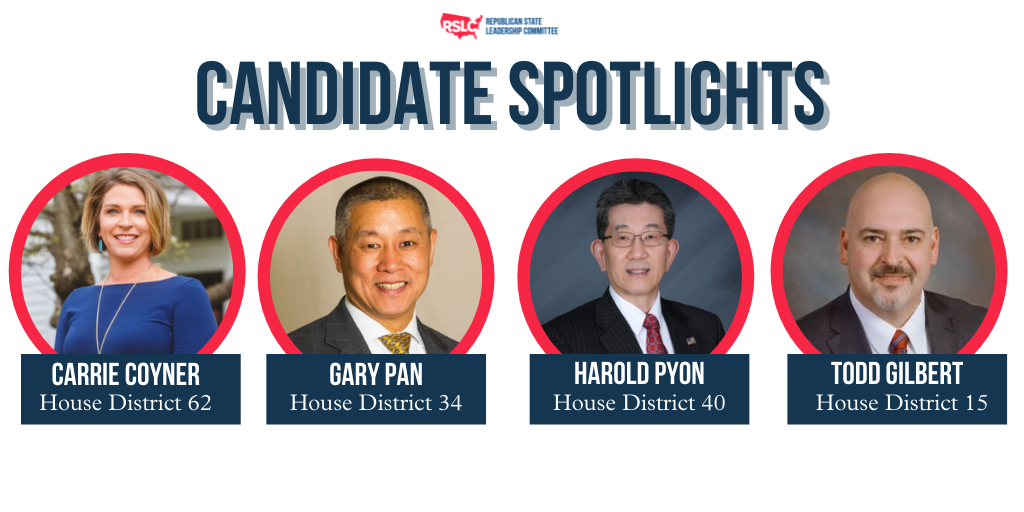 Carrie Coyner — Virginia House District 62 — @CarrieCoyner
Carrie is the owner and founder of a law firm and currently represents Virginia's House District 62. Before being elected to the House of Delegates, she served on the Chesterfield County school board. She has a reputation for working across the aisle to improve schools, cut taxes, and protect victims of domestic violence.
Gary Pan — Virginia House District 34 — @PanForVirginia
Gary is a successful small business leader and serves as the CEO of Panacea Consulting, Inc. He was also recognized by Inc. Magazine as among the 100 fastest growing private companies in America. He's an active business leader and community advocate who is ready to use his experience to get Virginia's economy back on track.
Harold Pyon — Virginia House District 40 — @HaroldPyon
Harold is a Korean immigrant and US Army veteran who knows what it takes to revive the economy and make Virginia a place where people of all backgrounds can achieve the American Dream. With nearly 35 years of professional experience, Harold is committed to providing a more prosperous Virginia for our kids and grandkids.
Todd Gilbert — Virginia House District 15 — @CToddGilbert
Todd was elected as Republican Leader of the  Virginia House of Delegates in 2018. Prior to becoming the Leader, he was named a "Legislator of the Year" by the Virginia Chamber of Commerce, Virginia Association of Chiefs of Police, and the Virginia State Police Association. He is a champion of family values and promoting public safety.
###