WASHINGTON, DC – As House Democrats continue their taxpayer funded vacation in Washington, the Republican State Leadership Committee (RSLC) and the Associated Republicans of Texas (ART) today revealed a joint effort to hold them accountable for circumventing the will of the voters and abandoning their constitutional duties to serve Texans. Spearheading the initiative, ART launched a six-figure paid media campaign this week that will target 12 key Democrat House members from across the state through text messages and digital ads urging them to get back to work.
"Democrats spent a fortune trying to flip the Texas legislature blue in 2020, but voters rejected their failed agenda," said RSLC President Dee Duncan. "Rather than acting like a child that takes their ball and goes home after a loss, these Texas liberals should stop grinding the democratic process to a halt and get back to work. We're proud to assist ART in holding Texas Democrats accountable for their shameful actions and the damage they are causing to Texas families."
ART President Jamie McWright added, "These Texas Democrats are a national embarrassment. They are subverting democracy and leaving critical legislation on the table to die solely to engage in a publicity stunt to raise money. We are proud to partner with the RSLC to make sure that, come November 2022, Texans remember they were abandoned by those that swore to serve them."
Texas Democrats claim their trip to Washington is a "sacrifice," but they have been mocked relentlessly for their boondoggle to the nation's capital that has included a flight on private jet where they failed to follow CDC guidelines, an alcohol filled bus ride, a stay in a fancy hotel, and more. What's worse, the Texas election reform bill they are protesting makes voting easier than it is in President Biden's home state of Delaware, and the federal legislation they are lobbying Congress to pass has already been opposed by national leaders in their own party for being too extreme.
Watch "Publicity Stunt" HERE.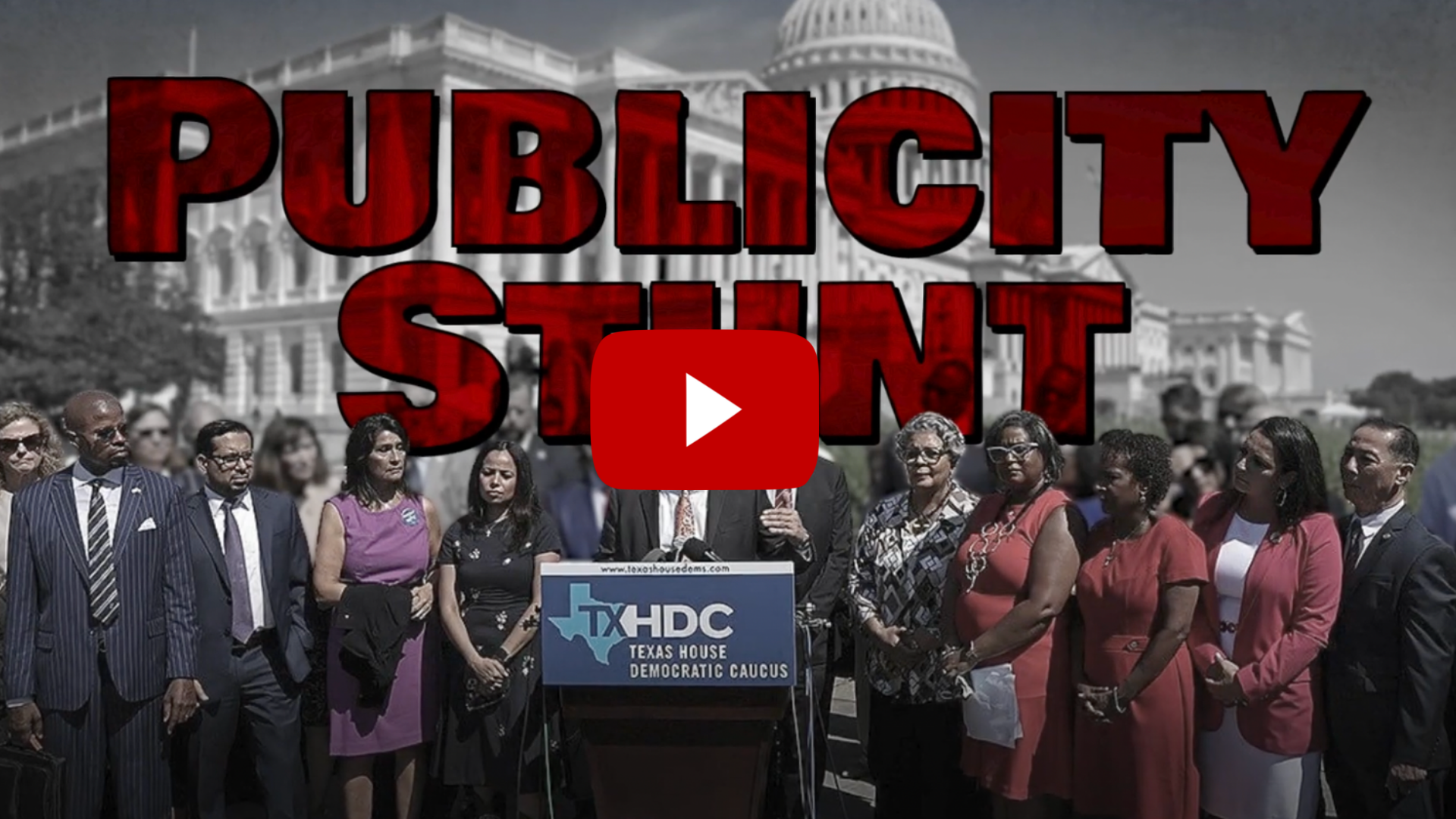 TRANSCRIPT
Narrator: Democrats in Texas took an oath to serve the people. But instead, they hopped on a DC bound private jet to avoid passing critical laws that Texans support. Stop the publicity stunt. Get back to work.
***
About RSLC 
The Republican State Leadership Committee (RSLC) is the largest caucus of Republican state leaders in the country and the only national organization whose mission is to elect Republicans to multiple down-ballot, state-level offices. Since 2002, the RSLC has been working to elect candidates to the offices of lieutenant governor, secretary of state, state legislator, the judiciary and other down-ticket races. State-level Republicans maintain 61 of 99 legislative chamber majorities across the country, hold 25 lieutenant governor seats, and control 29 secretaries of state offices. To learn more about the RSLC, please visit www.rslc.gop or follow @RSLC on Twitter.
About ART
The Associated Republicans of Texas is a non-profit organization committed to maintaining the Republican majority in the Texas Legislature and strengthening the future of Republicans in Texas. ART is committed to winning Texas House and Senate seats by allocating resources to the right candidates, in the right districts, at the right time. Each election cycle, ART supports targeted and competitive challenger, open, and incumbent races. Learn more about Associated Republicans of Texas at www.artexas.org or at @ARTxPAC on Twitter.
###