Washington, DC — Following Virginia's primary election Tuesday that highlighted the growing division among House Democrats, the Republican State Leadership Committee (RSLC) today released a new round of candidates for its "2021 Virginia Spotlight Candidates" series. The RSLC is proud to support candidates like these, who are fighting to expand opportunity in Virginia and push back against the far-left policies being implemented by Democrat-controlled Richmond.
The slate of candidates running for House of Delegates in Virginia in 2021 demonstrate the RSLC's commitment to expanding the future of the party with candidates who have a deep understanding of the issues impacting the communities they represent. Virginia's Republican statewide ticket already includes an entrepreneur and political outsider candidate for governor, an African American and veteran candidate for lieutenant governor, and a Hispanic candidate for attorney general, and will be supported by the 22 women, 8 minorities, 21 veterans, 19 young Republicans, and 24 business owners running for the House of Delegates.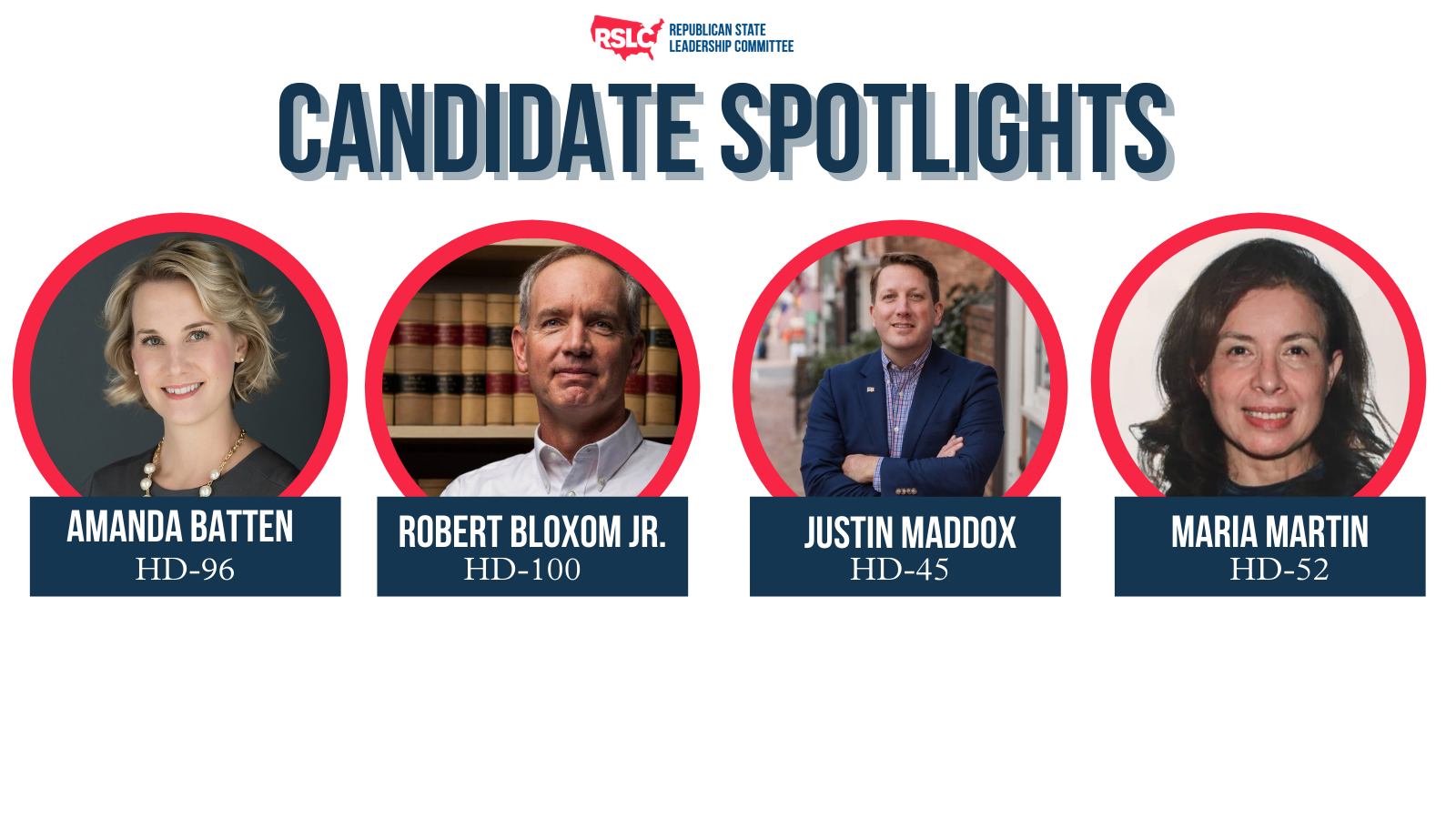 Amanda Batten — Virginia House District 96
Delegate Amanda Batten currently serves Virginia's 96th House District. She served on the board of the Thomas Nelson Community College Educational Foundation and was President of the Providence Classical School Board. Drawing on her experiences as a mother and community leader, Batten is utilizing her role as a member of the House Education Committee to cultivate innovative ideas for the future of education in Virginia and she will continue to fight for students and families.
Robert Bloxom Jr. — Virginia House District 100
In addition to representing Virginia's 100th House District, Delegate Robert Bloxom owns and operates several local small businesses and coordinates the Eastern Shore of Virginia's Habitat for Humanity roofing teams. He prides himself on being a voice of reason in Richmond, pushing back against radical Democrats trying to increase taxes and implement regulations that would kill jobs.
Justin "J.D." Maddox — Virginia House District 45 — @Maddox4Virginia
J.D. is a patriot who served in the U.S. Army Special Operations and the CIA, where he specialized in counter-disinformation. Like many Virginians, he is tired of divisive politicians putting party loyalty above good policy. He will pioneer a new approach to governing by listening to a diverse group of constituents to ensure he serves the people instead of partisan special interests.
Maria Martin — Virginia House District 52 — @MartinWin21
As an immigrant from Bolivia, Maria is the living embodiment of the American Dream. She is an artist and an author. To expand opportunities for future generations, she will fight for every student to have an equal chance to achieve success in the classroom and protect Virginia's curriculum from becoming politicized. Maria will also prioritize creating a quality education system where tax dollars are tied to students instead of teacher unions.