WASHINGTON
 – The Republican State Leadership Committee (RSLC) today announced June spotlight candidates in its "2020 Candidate Spotlight" series – a monthly program dedicated entirely to highlighting strong Republican candidates up-and-down the ballot and from every corner of the country. With this all-important election cycle on the line, the RSLC is proud to support candidates fighting to defend conservative values in the states. Republicans are continuing to lay the groundwork for a strong and unified Party for years to come.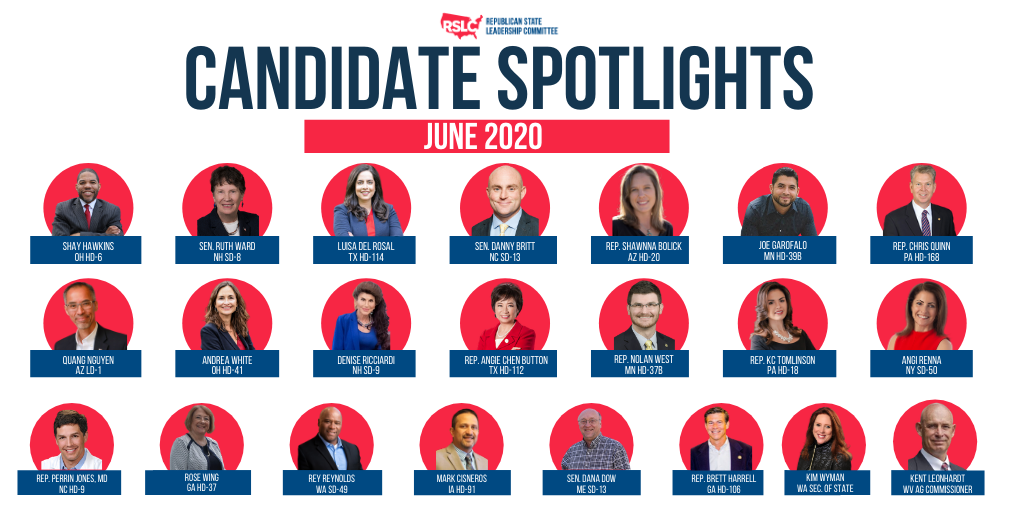 "Republicans are already winning up-and-down the ballot this cycle, showing that conservative candidates can get elected in even the bluest of states – and we're looking forward to carrying that momentum through November," 
said Austin Chambers, RSLC President.
 "This year's diverse slate of Republican candidates are second-to-none. The energy is on our side, and we are proud to highlight these candidates that are working hard and ready to serve their communities."
"We work hand-in-hand with our state partners to support Republican candidates from every corner of the country," 
said Kamilah Prince, RSLC Recruitment and Training Director.
 "Candidates and campaigns matter – and we've got the best of the best. We are proud to support these strong conservatives to make sure they have access to the resources they need to win."
To fight back against Democrats' endless spending, the RSLC helps candidates position themselves to win through avenues that can include direct contributions, data analysis, fundraising support, independent expenditures, opposition and policy research, training, message amplification, and more.
Candidates in this series will be spotlighted through earned media campaigns and on Facebook and Twitter. Please see below to learn more about each of RSLC's June candidate spotlights.
Andrea White
 – Ohio District 41 – @AndreaWhite2020
White is the founder of South Suburban Coalition, an eight community initiative to prevent teenage alcohol and drug use. She is a wife, mother, and grandmother. She is passionate about bringing people together to solve problems.
Angi Renna
 – New York Senate District 50 – @angiforstatese1
Renna is a small-business owner and financial planner. She is the mother to two sons. Renna is focused on making communities safer and more affordable for families. She wants to ensure hard-working New Yorkers can find good-paying jobs in Central New York.
Rep. Angie Chen Button
 – Texas House District 112 – @AngieChenButton
Rep. Button was born in Taiwan. She is the first woman ever to chair the Greater Dallas Asian American Chamber and first woman to chair the Texas House Economic and Small Business Committee. She is a wife, mother, and grandmother.
Rep. Brett Harrell
 – Georgia House District 106 – @BrettHarrell
Rep. Harrell is a small business owner that understands the burdens imposed by government regulations on businesses. He is the former mayor of Snellville. He is the chair of the House Ways and Means Committee in the Georgia legislature and was the leader for the Highway 78 Community Improvement District.
Rep. Chris Quinn
 – Pennsylvania House District 168 – @RepChrisQuinn
Rep. Quinn is a small business owner and previously served on the Middletown Township Council. He was instrumental in creating Sleighton Park in Middleton on the former Sleighton School land. He initiated the revamp of the Middletown Historical Society. He is a board member of Wells for Relief International and is vice treasurer of the Delaware County Industrial Development Authority.
Senate Republican Leader Dana Dow
 – Maine Senate District 13
Senate Republican Leader Dow is a former educator, and currently is a small business owner. He is a strong advocate for hard-working families in Lincoln and Kennebec County. Leader Dow is committed to providing a more prosperous future for the people of Maine.
Sen. Danny Brit
 – North Carolina District 13
Sen. Britt is a veteran who completed two deployments, one in Iraq and one in Kuwait, and serves as a Lt. Colonel in the North Carolina Army National Guard. He is an attorney and small business owner. He is a husband and father of two.
Denise Ricciardi
 – New Hampshire Senate District 9
Ricciardi is the founder of a local company that specializes in insurance for elderly people. She also started Bedford Cares in the midst of COVID-19. Bedford Cares is a network of volunteers that assists residents that cannot or choose not to leave their homes during the COVID-19 pandemic. She currently serves as the vice chairman for the town of Bedford.
Joe Garofalo
 – Minnesota House District 39B
Garofalo is a small business owner and realtor. He graduated with a degree in law enforcement from Minneapolis Community and Technical College. Garofalo and his wife live in Grant with their two young children. He is a former trade union member and construction industry worker.
Rep. K.C. Tomlinson
 – Pennsylvania House District 18 – @KC4StateRep
Rep. Tomlinson is focused on combating the opioid epidemic, holding the line on taxes, keeping paychecks safe, and creating job opportunities for hardworking families. She is a lifelong resident of Bensalem, and is a third-generation licensed funeral director. Rep. Tomlinson 
won the special election
 to fill House District 18, beating back close to $1 million in Democrat spending.
Luisa del Rosal
 – Texas House District 114 – @LuisaforTexas
Rosal is the executive director of John G. Tower Center and is the founding executive director of Mission Foods Texas-Mexico Center. She was born in Mexico and currently lives in North Dallas with her husband, Ricardo.
Mark Cisneros
 – Iowa House District 91
Cisneros is the son of first-generation Mexican immigrants. He is a former law enforcement officer, commercial truck driver, and a small-business owner. If elected, he will be the first Iowa legislator of Hispanic heritage. He is a husband, father, and grandfather.
Rep. Nolan West
 – Minnesota House District 37B
Rep. West is a lifelong resident of Blaine. He secured funds to rebuild 105th Ave in front of the National Sports Center. His priorities include rebuilding Highway 65 and lowering health care costs.
Rep. Perrin Jones
 – North Carolina House District 9
Rep. Jones, M.D. is an anesthesiologist at ECAA. He is the past president of the North Carolina Society of Anesthesiologists. He has a bachelor's degree from the University of North Carolina and obtained his M.D. from Wake Forest. He is a husband and father of three.
Quang Nguyen
 – Arizona House District 1
Nguyen is a Vietnamese immigrant and small business owner. He fled Vietnam at age 12 before Saigon fell and traveled across the world before being reunited with his family in San Joaquin Valley, California. He is focused on school choice and deregulation for businesses. He is a husband and father.
Rey Reynolds
 – Washington Senate District 49
Reynolds is a husband and father to six children. He is a biologist and spent 12 years with the former Department of Fish and Wildlife. He is known as the "Voice of Vancouver" national anthem singer. He is a police officer and 21-year veteran with the Vancouver Police Department.
Rose Wing
 – Georgia House District 37
Wing was an assistant district attorney for 25 years. She is a lifelong resident of Marietta and is active at the First Presbyterian Church. She is a graduate of Maryville College and Woodrow Wilson College of Law.
Sen. Ruth Ward
 – New Hampshire Senate District 8
Ward escaped from Christian persecution with her mother and sister while living in China after her father was murdered by communist soldiers. She is the eldest daughter of Swedish missionaries. She migrated to America at age 22, received her master's degree in nursing from Boston University and has been an American citizen working as a nurse practitioner for over 22 years.
Shay Hawkins
 – Ohio District 6 – @Shay_Hawkins_OH
Hawkins was born and raised in Cleveland's east suburbs. He is a graduate of The Ohio State University, received an MBA from Columbia Business School as a Credit Suisse First Boston Fellow, and obtained his J.D. from the Moritz College of Law at Ohio State University. He is the president of the Opportunity Funds Association, a 501(c)(6) dedicated to bringing investment capital into America's most distressed communities.
Rep. Shawnna Bolick
 – Arizona House District 20 – @Bolick4AZ
Rep. Bolick is an education advocate and serves on the Arizona State Board of Education's Academic Standards Development Committee and Arizona's Early Childhood Education and Health Board. Rep. Bolick is the author of "Playtime in Phoenix: The Ultimate Guide to Learning & Having Fun with Kids!" She is a wife and a mother.
Secretary Kim Wyman
 – Washington Secretary of State – @KimWyman12
Secretary Wyman is the second female secretary of state in the history of Washington. She formerly was the Thurston County Elections Director, where she served for nearly a decade, and the former Thurston County Auditor. She is a cancer survivor, wife, and mother to two children. Secretary Wyman is on the executive committee for the RSLC's initiative, 
Right Women, Right Now.
Commissioner Kent Leonhardt
 – West Virginia Department of Agriculture – @KentforWV Commissioner Leonhardt is a longtime farmer who has lived on a farm that he revived since 1982. He served in the United States Marine Corps, where he retired as a Lieutenant Colonel after 20 years of service. Leonhardt is a former West Virginia State Senator, where he served one of the largest and most rural districts. He is a husband, father, and grandfather.
###